Online English Proof reading Service!
A proofreader is a specialist who is rarely noticed. Yet, he/she is the one who makes vital final touches. Such guys do not put their names under articles and posts. But the fact that the text is not proofread is evident at once. For teachers, the relationship between strong grammar and intellect is more apparent than you might suppose. This subtle factor can influence your school and college ratings significantly. That is why Fastcustomwritinghelp.com always offers competent help with this type of check.
The point is to consider even the tiniest mistakes. Dealing with such vast projects as theses or dissertations, people often pay attention to calculations, logic, novelty, and other crucial aspects firstly. Meanwhile, small inaccuracies can result in big troubles too. This is how we get "a map of "lies,"" instead of a "map of lines," for instance. Typos can damage your reputation as a good student and even cost thousands of dollars for business.
Difference between editing and proofreaders' job
There are various types of checking procedures, starting from simple review and to rewriting. Proofreading and editing often come hand in hand. Still, the first one is a narrower concept in comparison with the second one.
Our agency proofreads spelling, punctuation, grammar, as well as number formats. Editing implies all these points too. Besides, it includes structure optimizing, references correction, content adding and deleting.
Our proofreading department in figures
115+ proofreaders
2 compulsory reviews for every single text
4 computer programs for revision
3.5 million+ words have been proofread
Academic proof reading: competent and fast help
The high quality and professionalism often sound ambiguous. But, our company can prove its competence demonstrating tangible results. Our proofreaders eliminate the following issues:
missed words,
omitted letters,
wrong formats,
non-completed sentences,
wordiness,
slang,
repetitions.
We strongly advise turning to our expert in the following cases.
Your grammar is poor.
You need to make a good impression on your professor.
The entire report is written, yet you do not have time to revise it.
You just do not like to obsess about nuances and details of university standards.
We understand that you worry a lot about these situations. Fastcustomwritinghelp.com is established precisely to calm your anxiety. It is key to your confidence. The study is definitely easier when you are sure about your grammar.
Errors make people look funny or even stupid. Having mistaken once, one can earn an unfavorable reputation for a long time. It happens that one typo overshadows the entire decent quality of your essay. And what is sadder is that you can be associated with your fault. Let's say they call you the one who dismissively names "staff" as "stuff."
The best instruments for our checking services
There is a great variety of ways to review a text for now. Fastcustomwritinghelp.com selects the best of them. We use advanced algorithms and processes. Our specialists monitor the latest trends and opportunities in this field; as well establish their own methods.
Grammar check software. AI is reliable enough to detect typical weak places and typos. We use premium versions of the advanced programs. They offer extended opportunities and recommendations. Obviously, such applications do not point out all inaccuracies. The first thing is that they are too standardized. They hardly realize the difference between various spheres of study, nuances of terminology, and peculiarities of the individual style. Then, AI systems constitute self-learning mechanisms. It means that they are constantly developing. Users contribute to this process significantly, leaving replies and recommendations. When someone marks a mistake as "not helpful" or "wrong," AI considers it for future work. Yet, it is hard to detect whether this participation is helpful or not. That is why predicting further results is getting challenging. Meanwhile, this software is useful when it comes to general rules of grammar, typos, and tautology.
Human proofreader. This person is the primary specialist of our procedure. He/she is responsible for the excellence of the final draft. Knowledge and experience, as well as a meticulous approach to work, ensure impeccable results. At least two people review every paper twice. This scheme eliminates even the tiniest shortcomings.
While mankind is choosing between AI and human capacity, we opt for their combination. This strategy ensures a synergistic effect. Programs detect most typos and standard errors. Thus, specialists get time for a more serious audit. They are focused on control over software, as well as deal with stylistic, narrow-specialized peculiarities, and other nuances.
This is how experts of our company proofread texts
The way our specialists work on your papers is well-considered and time-honored. We tried so hard to establish a reliable universal method.
Determine the purpose. We want to know if you need this text for school, university, or a science publication.
Read out aloud. As a listener, our proofreader detects the primary problem areas. At this stage, our proofreader checks the structure of the entire text, and each sentence, in particular. The point is to find everything that sounds weird.
Line by line check. Every single sign is carefully examined. Our specialist focuses on separate words, wordings, punctuation marks. After that, he/she reads the text backward.
Correcting. The checker corrects all the detected mistakes, as well as provides the necessary explanations.
One more revision. Another person makes the final revision. This step is essential to get a fresh set of eyes.
Teachers and professors are intelligent people. Mistakes in your papers annoy them a lot. Just believe us, as we have enough experience of working in an educational sphere. It is such a pleasure to see a perfect paper without any errors. In this way, a student demonstrates a serious approach to study. The person cares about the quality and pays enough attention to revising and editing. However, a good rating from a supervisor is not the end itself. The sense is to polish a text improving its quality. When our specialists work with your project, they want to boost your progress first. With their constructive critique and helpful advice, you can reach higher achievements.
How can I improve my college papers? — Turn to us!
The final revision is a vital step to perfection. Yet, who said that a student should do it? This type of review is often considered the duty of an author. On our part, we offer a better alternative. An outside perspective is always effective. And if it is given by true professionals, the choice is evident. Here are the strongest reasons to opt for our agency.
High qualification. Numerous certificates and diplomas of our assistants speak for themselves. Even the academic level is available on our website.
Experience. The point is that our proofreaders know where to find mistakes. Typos can lurk in unexpected places, yet none of them escapes the notice of our expert.
Explanations and recommendations. If something about a ready-made paper is not clear to you, ask our specialists. They are always ready to prove their editorial corrections.
Customer experience. Thousands of pupils and students have already trusted us. Due to our benefits, they eliminate stress, rush, and fatigue from their students' lives. Take an example from them.
Respect to clients. Everyone deserves a decent service and respectful attitude. Following this rule, Fastcustomwritinghelp.com takes every customer as an individuality. We select the best options and terms for every single order.
Success needs perfect results without compromises. Yet, it is challenging to make everything impeccably. Our agency is always ready to help you on your way to new achievements. With our assistance, you eliminate boring and complicated tasks from the everyday routine. Thus, you get more time on creative, inventive, research, and other types of activity.
Guarantees of our document checkers
Guarantees are the key to trustworthy partnership and long-term business relations. That is why we promise to provide the first-rate result according to your timeframes. Our assistants carefully detect, analyze, and correct all the shortcomings.
We guarantee:
optimal sentences (proper word order and length);
slang elimination;
picking the most precise words;
punctuation in proper places;
appropriate capitalization.
As a result, you get a mistake-free text with zero grammar, punctuation, and spelling errors. A better rating from your teacher or supervisor is a pleasant consequence of our work. You will be proud of the final piece of writing. We always review your texts attentively, so that they make a favorable impression.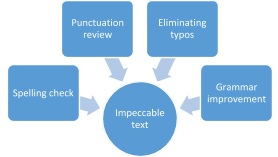 We spend so much time on creating informative reports, captivating essays, original reviews. Search for information, composing a logical structure, presentation of ideas, — all these steps take many efforts. Maybe, it is the reason why we neglect the final stage. Meanwhile, a good reputation and strong grammar come hand in hand. Proofreading is probably the simplest type of check, everyone can afford. It is the last stage to catch mistakes before the teacher or professor see your paper. Thus, do not ignore this opportunity to make your text brilliant!